CAMPING
Each hunting area dictates it's own kind of camp. There will be a base camp, which can be travel trailers with all the conveniences of home and/or deluxe tent camps. At certain times there will be spike camps that provide just the basics. All the necessary equipment for a safe comfortable camp is provided. We understand the importance of being well rested and take pride in providing a comfortable camp.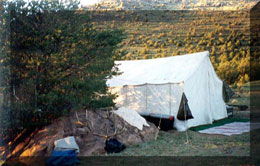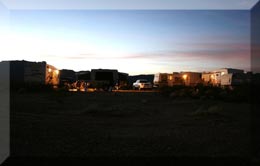 TRANSPORTATION
We provide transportation from camp to your hunting zone. If you fly in for your hunt, we can make arrangements for transportation from the following airports. (This arrangement depends on where you have booked your hunt.)

Hunting in California: Palm Springs International Airport or Ontario International Airport

MEALS
All meals are provided and prepared by an experienced camp cook in a clean wholesome manner. Breakfast is a continental style, lunch is lunch box style, and dinner is a hot cooked meal. Let us know if youhave any special dietary needs or medical considerations.
NECESSARY GEAR
You will be responsible to provide your own rifle, sleeping bag, personal gear and optics. A complete information letter that includes an equipment list with some recommendations will be mailed to all our booked clients well in advanced. Check the state regulation book for their basic requirements. We will be happy to help you with this.
Starting in 2015: California Desert Bighorn Sheep hunts require copper bullets.
FEES
Each hunt is individualized and costs vary. Call or e-mail us and we will give you the information on fees for our different hunts. Methos of payments are check and cash.
TROPHY CARE
Your trophy is given the best professional care from start to finish. The animal is caped in the field and ready for the taxidermist. If you have not selected a taxidermist, we work with several with extensive experience mounting the species we hunt.

OTHER
Available for purchase from San Gorgonio Wilderness Outfitters,call or email for pricing and sizes.

Natural Gear Camo